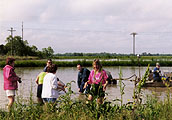 Catchin' crawfish

The Savoy-Doucet Cajun Band with Richard Thompson!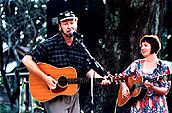 Richard Thompson taking a solo at the '99 crawfish boil!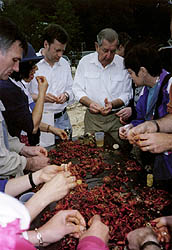 Peelin' and eatin' crawfish!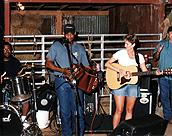 Geno Delafose, in his barn, performing at our BBQ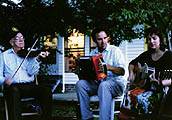 Wade Frugé with Marc & Ann Savoy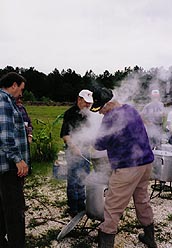 Boiling the crawfish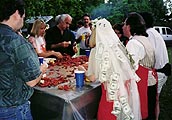 Steve & Mary get married!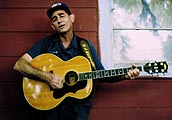 D. L. Menard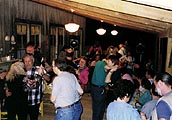 Let's dance!
MONDAY, APRIL 29 - New Orleans/White Castle.

Meet this morning in New Orleans. Leaving the hustle and bustle of the city behind, we head out to the lush swamps of the Louisiana bayous. After a waterside Cajun lunch en route, we'll take a leisurely cruise down the alligator swamps... see 'em after we've eaten them! Enjoy moss-strewn cypress tress dipping lazily into the water. Spot egrets, heron, and if we're really lucky, bald eagles plus other fascinating wildlife of this beautiful part of Louisiana. After our swamp trip we drive on to the magnificent Nottoway Plantation overlooking the Mississippi. Nottoway is one of the very few antebellum plantations that survied the War Between the States and is the largest remaining plantation home in existence. We'll have a private tour of the plantation and before settling in for our evening there. We have reserved the entire plantation just for us. Take a swim, stroll around the grounds, or just relax on a rocker on the porch. This evening enjoy dinner and dancing here in the Plantation. We've arranged for our own Cajun dance teacher to help us learn or brush up on some steps in anticipation of our next day...

TUESDAY, APRIL 30 - White Castle/Eunice

Wake up early this morning to coffee and sweet potato muffin brought to your room. After a full plantation breakfast we drive to Eunice in the very heart of the Cajun country. Meet the mayor, visit the Prarie Acadian Cultural Center and the famous Liberty Theatre, home of their Saturday night concert and radio show.

This afternoon is our annual crawfish boil at the beautiful country home of Marc and Ann Savoy, for many of us the absolute highlight of the trip. Marc and Ann are responsible in many ways for keeping the Cajun culture intact. Ann is the author of the most well know book on Cajun culture and is also the producer of the much anticipated Vanguard record "Evangeline Made", featuring many well known musicians covering some of their favorite Cajun songs. Marc is the most famous and respected Cajun accordion maker in America and our visit to his shop, the Savoy Music Center, is a real treat. The Crawfish Boil is now their annual party and it is certainly the highlight of my year and now theirs. It's not open to the public but only friends and neighbors of Marc and Ann's will join those of us on the tour. Spend the afternoon under the trees listening and dancing to Cajun music, mingling with family and friends and locals, drinking local beer and eating obscene amounts of crawfish, potatoes and corn piled high on long wooden tables. This event is what inspires all that good Cajun music and there will certainly be some this day... with Marc and Ann, Michael Doucet and the younger generation that like to join in. It's always a hot music jam, and we'll be joining the party dancing in the dirt under the beautiful oak tree.

After the Crawfish Boil we'll climb into bed in Eunice at the best spot in town, The Best Western.

WEDNESDAY, MAY 1ST - St. Martinville/Erath

We'll leave Eunice and drive south to the quaint town of St. Martinville, home of the Evangline Oak and the ancient but infamous Romero brothers, perhaps the world's worst Cajun musicians. Why tourists love them we will never know. But we are not tourists, so smile and pass them by and enjoy this picturesque town which is well worth the visit.

After an exploration around the tiny town we'll join our favorite chef and personality, Pat Mould, for a private cooking class. Even if you have no desire to learn to cook you will enjoy his wit and wisdom and even more will enjoy eating the food prepared right before your eyes. As an added treat Michael Doucet, Beausoleil's famous fiddler, and his wife Sharon, the well known Cajun author, will play some tunes for us between bites! After eating and drinking we'll waddle off to our grand finale of our trip -- a visit with the most personable Cajun of them all, D.L. Menard. He will welcome us to his down home front yard for a few tunes and stories before we head back to the Crescent City.

Laissez les bons temps rouler!
---
Interesting links

Recall Music
Ellen Griffith's site promoting independent roots music, with a New Orleans Jazzfest photo feature.

Richard Thompson
Unofficial, but the best fan site there is. RT has blessed this site with his memorable quote, "They're worse than real critics, they're amateur critics!"

The Gumbo Pages
Festival Tours' web host.