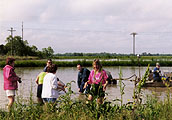 Catchin' crawfish

The Savoy-Doucet Cajun Band with Richard Thompson!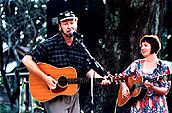 Richard Thompson taking a solo at the '99 crawfish boil!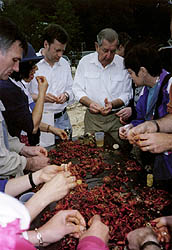 Peelin' and eatin' crawfish!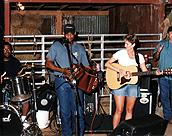 Geno Delafose, in his barn, performing at our BBQ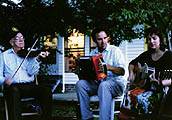 Wade Frugé with Marc & Ann Savoy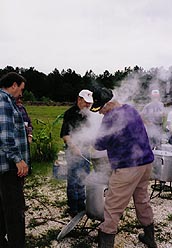 Boiling the crawfish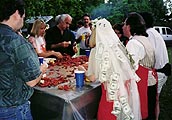 Steve & Mary get married!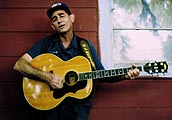 D. L. Menard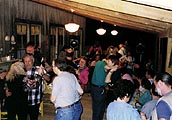 Let's dance!
Thursday, April 22 - New Orleans.

Check into our deluxe hotel, the newly renovated Bourbon Orleans, located right in the heart of the French Quarter, just behind Jackson Square. Settle in to our wonderful hotel, have a Sazerac or a mint julep by the pool or wander the quaint streets of the French Quarter.

Our tour officially starts tonight with a private dinner upstairs above the courtyard of the historic French Quarter restaurant and bar, Napoleon House. The charming and atmospheric Napoleon "apartments" are a well-kept secret with the locals for special occasions. We'll have drinks on the balcony overlooking the French Quarter, followed by a leisurely five-course dinner -- a delicious way to meet everyone on the trip and not have to worry about making one of those hard to get restaurant reservations. We'll have a private Cajun dance teacher to help us get in the Cajun mood. If you still have the energy afterwards, you're free to head out to one of the clubs for some of that fabulous New Orleans music.

Friday, April 23 - New Orleans.

Today is the first day of the New Orleans Jazz and Heritage Festival. We'll be giving you tickets for two of the three days of the Festival and shuttle tickets for the bus that will take you into the festival grounds, so that you will have one free day to enjoy the French Quarter. Busses, which are conveniently located at our hotel, leave for the Fair Grounds every 15 minutes so you can come and go as you like. Music goes on from 11am to dusk on 12 different stages with the best names in everything from rock to reggae, blues, Cajun and zydeco, traditional and contemporary jazz, pop -- you name it, it's played here! And with food from over 40 food booths, it's a true fest for all the senses! At night time ... well, New Orleans just fills up with music in every club, concert hall and street corner. Between club hopping, dinner by some of the best chefs in the world and the Jazzfest during the day, your only problem is how to get some sleep! But when you're finally ready for that sleep or swim you can return to our hotel, the Bourbon Orleans.

Saturday & Sunday, April 24 - 25 - New Orleans

Enjoy Jazz Fest all weekend. Music goes on from 11am til dusk and music in the clubs goes on all night! Or, enjoy your time sightseeing in New Orleans!



Monday, April 26 - Houma/Eunice

We leave the hustle and bustle of New Orleans behind and head out to the lush swamps of the Louisiana bayous. After a waterside Cajun lunch en route, we'll take a leisurely cruise down the alligator swamps with the moss-strewn cypress trees dipping lazily into the water. We'll spot egrets, heron and other fascinating wildlife of this beautiful part of Louisiana. In the late afternoon we'll drive on to Eunice, our base for the next few days here in Cajun Country. Tonight we're invited to the home of the great young zydeco musician Geno Delafose, whose band was voted Best Zydeco Band of 1999. He is hosting a down home Bar-B-Q just for us at his horse ranch just outside Eunice. Last year we danced our feet off to one of the hottest zydeco jams ever. It was a fabulous welcome to Cajun country and a night they are still talking about!



Tuesday, April 27 - Eunice

Explore Eunice. Meet the mayor and visit the Prairie Acadian Cultural Center in Eunice's tiny downtown, or take a tour of the local hot sauce factory. Then it's a trip to Floyd's Record Shop in Ville Platte for a shopping spree and lunch at the ever popular Pig Stand (don't worry, they also serve chicken).

But this afternoon is the real eating spree ... our annual crawfish boil at the country home of Marc and Ann Savoy in Eunice. This is one of the great parties of certainly my year and now theirs. It's not open to the public, but only guests of Marc and Ann's will join those of us on the tour. Spend a great afternoon under the trees listening and dancing to Cajun music, mingling with family and locals, drinking some of the local brew and eating obscene amounts of crawfish, potatoes and corn piled high on long wooden tables. YUM!! No wonder Marc and Ann look forward to our trip there. In the evening as the fireflies start to come out, Marc will undoubtedly organize one of his now infamous "nature walks" on their farm - sometimes culminating in an impromptu dive into the lake. Did I mention that earlier today we'll get a chance to go crawfishing ourselves and also stop by Marc's shop, The Savoy Music Center, where his famous accordions are made? Let's just say that it's a wonderful day and many people say it's the highlight of their entire trip.



Wednesday, April 28 - St. Martinville/Erath

Today experience the most fun cooking class ever with the renowned chef Patrick Mould at his new Cajun Cooking School located in the quaint town of St. Martinville. Before lunch, stroll around this small town on the Bayou Teche, which is the home of Longfellow's Evangeline Oak. Patrick is quite a chef and it's always a delectable lunch. Our friend (and Patrick's) Michael Doucet has been known to join us at our cooking class to play some hot fiddle in between spicy bites of food. So even if you have no aspirations to be a Paul or Paula Prudhomme in the kitchen, the lunch will taste great! After lunch, we'll visit with D. L. Menard, the "Cajun Hank Williams", at his home and chair factory. D. L. is sure to play some tunes for us on his front porch. There's no finer sendoff from Cajun country than a hollered "Bye y'all!" from D. L.! We arrive back into New Orleans in time for a good dinner and night of club hopping.



Thursday, April 29 - New Orleans.

Our full tour officially ends today. If you've signed up for our "Thursday Extension", then you're free to head out to the Festival for another great day of Jazzfest, which has now started up for the second weekend. Thursday is my favorite day at Jazzfest, not to mention the French Quarter, as it tends to be far less crowded and a really wonderful atmosphere.



Friday - Sunday, April 30 - May 2 - New Orleans

If you've signed up for the "Second Weekend Add On" we will give you tickets to all 3 days of the festival so you can come and go as you wish. See you round the pool or out at the festival!



Monday, May 3 - New Orleans

Our tour officially ends after breakfast ...

Laissez les bons temps rouler!
---
Interesting links

Recall Music
Ellen Griffith's site promoting independent roots music, with a New Orleans Jazzfest photo feature.

Richard Thompson
The new official Richard Thompson web site!

The Gumbo Pages
Festival Tours' web host.