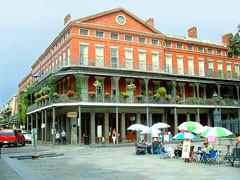 French Quarter, New Orleans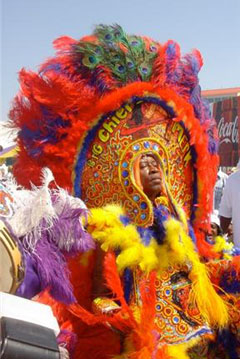 A Mardi Gras Indian at Jazzfest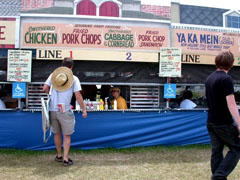 One of dozens of Jazzfest's fabulous food booths.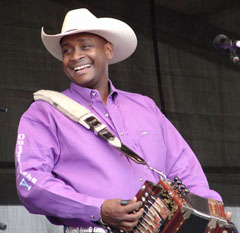 Geno Delafose

Eunice, Louisiana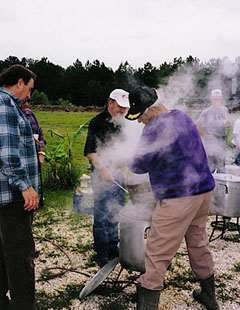 Boiling the crawfish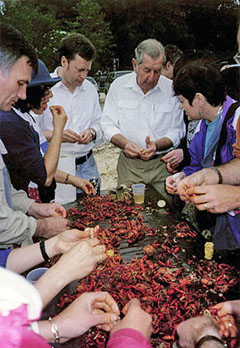 Peelin' and eatin' crawfish!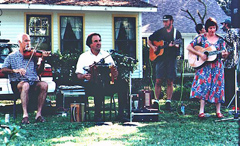 The Savoy-Doucet Cajun Band with Richard Thompson!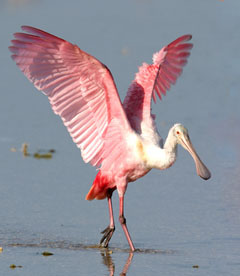 A roseate spoonbill on Lake Martin
Wednesday, April 27 - Optional arrival in New Orleans.





Thursday, April 28 - New Orleans.

Check into our deluxe hotel, the privately-owned Bourbon Orleans, in very heart of the French Quarter. Nestled between Bourbon Street and Jackson Square, there is no better location for exploring the French Quarter.

Settle in, have a Sazerac in the palm-lined courtyard, take a dip in the pool or wander the colorful streets of New Orleans!

Our tour starts tonight with a private dinner at one ofour favorite restaurants in the French Quarter, the elegant and atmospheric Muriel's. We will enjoy cocktails and hors d'oeuvres in the Seance Lounge before a delicious 3 course dinner in our private Plantation Room with balconies overlooking Jackson Square. After finishing up on Muriel's famous bread pudding and tanking up on chicory coffee for that extra energy (the night is young!) you can head out to one of the clubs for some of that fabulous New Orleans music, or wander home through the Quarter to our cozy hotel for an early night.




Friday, April 29 - New Orleans.

Today is the first day of the New Orleans Jazz & Heritage Festival -- absolutely one of the best festivals in the world! Music goes from 11AM to dusk on 12 different stages with every kind of music imaginable -- rock to reggae, jazz, blues, Cajun, Zydeco, traditional and contemporary jazz, gospel and world music. There are literally thousands of musicians the two weekends of this fabulous festival. The line up for Jazz Fest has just been announced and can be found at nojazzfest.com.

We'll be giving you tickets for two of the three days of the Festival so that you will have one free day to enjoy the French Quarter. If you want to attend all 3 days additional tickets can be bought from us ahead of time so you can avoid the hassle and save money over the steep Ticketmaster prices. Tickets are also available at the gate but at the higher price of $60.

With over 100 Louisiana specialties served at over 40 different food booths, the Jazz Fest is a true feast for all the senses. At nighttime New Orleans just fills up with music in every club, concert hall and street corner. Between club hopping, dinner by some of the best chefs in the world and the Jazz Fest during the day, your only problem is how to get some sleep. But when you are finally ready for that swim or sleep you can return to the comfort of our hotel, the Bourbon Orleans.




Saturday & Sunday, April 30 - May 1 - New Orleans.

Meet us 'round the pool to visit and chat about last night's adventures or stroll over to the famous Café du Monde for coffee and beignets. Your days this weekend are free to enjoy the city and the amazing New Orleans Jazz & Heritage Festival.




Monday, May 2 - Eunice.

Our CAJUN TOUR starts today!

Leaving New Orleans behind we head west driving past Lake Pontchartrain into the heart of the Cajun Country for a relaxing afternoon on the Louisiana Bayous. Just south of Breaux Bridge, home of the now infamous Crawfish Festival, we find the picturesque, wild and quite undiscovered Lake Martin. This is the perfect antidote to our previous hectic days as we drift past lush cypress trees, explore the alligator swamps and spot the local birds, with the best private guides in the area. As a bonus we'll hopefully catch a rare glimpse of bright pink wading birds called roseate spoonbills, who nest for only a short time in this tiny part of Louisiana.

Walking distance down the lush road from Lake Martin is one of the most special homes that I have ever been to -- the romantic and secluded Maison Madeleine. We will enjoy a gumbo lunch at this 1840s-era restored Creole cottage, which is on the National Register of Historic Places.

After lunch we drive north to Eunice, the Cajun Prairie Capital, where we will spend the next two nights.

Tonight we're invited to the home of the great Zydeco musician and Grammy winner Geno Delafose. Geno has invited us for a private down home BBQ at his Double D Ranch just outside of Eunice. Eat, drink, hear some great music and dance your feet off with family and friends!




Tuesday, May 3 - Eunice.

One of the main ingredients in gumbo and so many Cajun dishes is Cajun sausage, and the most famous place for this is the family owned LeJeune's Sausage Kitchen located just outside of Eunice. Folks travel from all over the state to pick up this specialty. This is where the Savoys get their boudin and because of that connection LeJeune's is giving us a private tour where we will see the smoking and making of this most famous meat. Then it's onto Eunice's tiny downtown, which prides itself on being the Cajun Prairie Capital. Visit the Cajun Music Hall of Fame, the Prairie Acadian Cultural Center and the famed Liberty Theatre or just listen to the locals speaking Cajun French as you have lunch in one of Eunice's down home cafes.

After lunch we'll head over to the Savoy Music Center to spend time with the master himself -- accordion maker and National Heritage musician Marc Savoy. We'll have the privilege to hang at the feet of the master in his actual workshop where the world's most famous Cajun accordions are built.

Afterwards we're invited to Marc & Ann's country home for our annual Crawfish Boil -- a very special treat. The Crawfish Boil is not open to the public, but only guests of Marc and Ann's will join those of us on the tour. Spend a lazy afternoon under the trees listening and dancing to great Cajun music played by the Savoy family and friends, mingling with the locals drinking brew and eating obscene amounts of crawfish, potatoes and corn piled high on long wooden tables while hot chicken sizzles on the BBQ. YUM! No wonder Marc and Ann look forward to our annual trip and party!

In the evening as the fireflies start to come out, Marc will undoubtedly organize one of his now infamous "nature walks" on their farm -- sometimes culminating in an impromptu dive into the lake. It's an incredible day and most people say it's the highlight of their entire trip.




Wednesday, May 4 - Lafayette and back to New Orleans.

We drive south to Lafayette, the Cajun Country's most intriguing town for lunch and absolutely the most fun cooking class you'll ever have -- led by the renowned and entertaining Cajun chef, Patrick Mould. After downing an Oyster shooter we'll have a cooking demonstration to beat all others as we enjoy some of the finest food of the whole trip- with sweet fiddle music played between courses. Life doesn't get better than this!

With full and happy stomachs we drive back into the Crescent City in the late afternoon arriving in time for dinner or an evening club hopping.




Thursday, May 5 - New Orleans.

Our full tour officially ends today. If you've signed up for the "Thursday Extension", which we recommend, then you're free to sightsee and relax in New Orleans or head out for another great day of the Jazz & Heritage Festival, which has now started up for the second weekend. Thursday is my favorite day at Jazz Fest not to mention the French Quarter as it tends to be less crowded and a really wonderful atmosphere.




Friday - Sunday, May 6 - 8 - New Orleans.

If you've signed up for the "Second Weekend Add On" we will give you tickets to 2 days of the festival so you can come and go as you wish. Evenings are free.




Monday, May 9 - New Orleans.

Our tour officially ends after breakfast ...




Laissez les bons temps rouler!





Come with us to eat, drink, dance & be merry in the warm Louisiana sun!





Full Tour $1699 * (Early bird price)

For more details and to sign up for our trip, please download the booking form & booking conditions below.