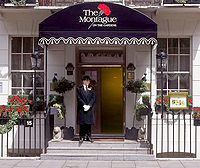 A warm welcome at The Montague Hotel.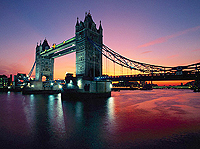 London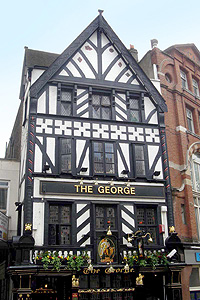 London Pub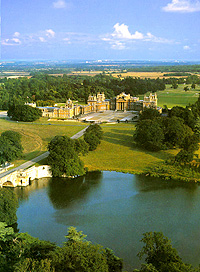 Blenheim Palace
PreFestival lunch with Fairport at The Falkland Arms in the Cotswolds.
Lunch time at the Falkland Arms. (Ric Sanders, Nancy Covey & Dave Pegg)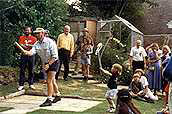 Richard T. warms up for an 'Aunt Sally' game at the post Festival BBQ as Jerry Donahue, Danny Thompson, Festival Tours & friends look on.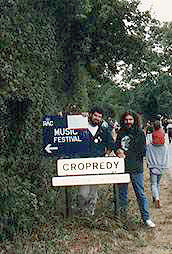 Cropredy or bust!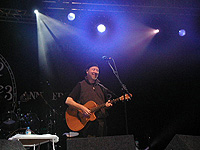 Cropredy at Night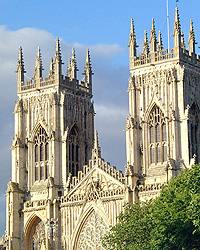 York Minster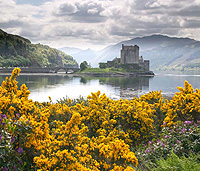 Scotland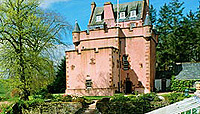 Towie Barclay
Edinburgh Castle
Edinburgh Fringe Festival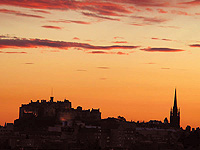 Edinburgh sunset
Friday - Saturday, August 3 - 4 - London

Optional arrival times in London. We strongly suggest you arrive into London a few days early. We can book additional nights for you at our delightful hotel, The Montague on the Gardens, which overlooks private gardens and is in an excellent location. The British Museum is across the street and it's walking distance to Covent Garden and the West End. The Montague has a plush English atmosphere which is getting more and more difficult to find these days in modern, overpriced London. For those arriving early we will have an informal gathering at the hotel pub on Saturday -- or perhaps see you for afternoon tea in the lobby or conservatory.

If you have arrived early you will have these days here in London to explore this fascinating city. Visit the Tower of London, wander the famous museums, enjoy a or stroll through one of London's many beautiful green parks. In the evenings enjoy the spirits in a cozy pub, catch a gig in one of the clubs or see some of the best theatre productions in the world.

You can also join an evening Pub Crawl led by tour members and pub experts, Joan & Jesse, to really get a taste of the city. The good news is that as of June London (and all of England and Scotland) will be "No Smoking," so you can now enjoy the great pub atmosphere without choking!

Sunday, August 5 - London

We officially begin our tour tonight with a private moonlit dinner cruise down the Thames as we watch the sights and lights of Big Ben and the spectacular Houses of Parliament. Be serenaded by our special guest musicians who in the past have included Loudon Wainwright III, Iain Matthews, Jerry Donohue, The Albion Band or Robin Williamson. As we get closer to the tour we will let you know who this year's special guest will be. Tonight is a great way to enjoy good food, good music, see the London from a totally different perspective and have a chance to eat, meet, drink and be merry with everyone on our trip.

Monday, August 6 - Banbury

We leave London behind and travel to the Cotswolds, one of the most beautiful counties in England. We'll visit the Baroque Blenheim Palace, which was home to the Duke of Marlborough as well as the birthplace of Sir Winston Churchill. Blenheim is surrounded by 2,000 acres of parkland which are now considered a World Heritage Site. You will have time to enjoy the incredible gardens, get lost in the Marlborough Maze, enjoy the butterfly house and of course the Palace itself. Next to Blenheim is the extremely quaint town of Woodstock.

After free time in Woodstock and Blenheim we arrive at the ancient market town of Banbury which will be our base for the week. We'll stay in the wonderfully English hotel, The Whately Hall, which is located right in front of the famous Banbury Cross.

Tonight we'll have tickets available for Fairport's pre-festival warmup concert. These warmup gigs are always sold out and are often times some of the best concerts you'll ever hear from the band! Joining Fairport tonight will be Richard Thompson and other guests to be announced. We will keep you posted!

Tuesday, August 7 - Banbury and environs

Free day to enjoy Banbury or to take a trip to nearby Oxford , Stratford On Avon or Warwick Castle, all within a half an hour from our hotel.

Tonight is the second evening of the Fairport Warmup nights and we will have a limited number tickets for this sold out show (so sign up early!). If you opt not to go to the second night of the Fairport warm-up shows (special guests TBA) this could be another good chance to experience a Shakespeare play at his birthplace, Stratford-Upon-Avon.

Wednesday, August 8 - Banbury

We take a short drive to one of the Cotswolds' picturesque villages for lunch in a thatched village pub. We spend the afternoon with FAIRPORT band members swapping stories and sipping ale over a pub lunch and a chance to try to win back the Festival Tours/Fairport Aunt Sally cup! For those new to the game, Aunt Sally is a traditional Cotswold game consisting of throwing a stick at a Doll. We'll explain. It's easy and fun!

Tonight is free for you to relax here in Banbury, take a trip to Oxford or join Colleen who is organizing an informal evening trip to Stratford-Upon-Avon.

For you music junkies who just haven't had enough, Richard Thompson is playing a club that is about an hour away from Banbury. This show is not formally announced anywhere yet! However we have a limited number of tickets already reserved. We will organize an optional trip there to catch his show (with his band) that will include transportation, tickets and dinner. Details to follow!

Thursday - Saturday, August 9 - 11 - Cropredy

The weekend will be spent at the Fairport Convention's Cropredy Festival, which takes place on a grassy field overlooking the rolling hills outside the tiny village of Cropredy. This will be the 40th anniversary of Fairport Convention, so it will be extremely special, and a real "reunion" of former Fairport members!

Thursday's headliner will be Jools Holland, Friday is the Richard Thompson Band and Saturday Fairport Convention. Many more acts are being confirmed so check the Fairport website for the latest news, as well as our webpage here. Many exciting surprises in store for this reunion year...

Speaking of which there are some really exciting things brewing for the Cropredy festival I had to "keep under wraps" until it was announced officially. Fairport is doing the entire "Liege & Lief" album, start to finish with the original lineup (without Sandy, of course) at Cropredy on Friday night!

The Cropredy Festival has a great atmosphere and has turned into one of the most popular summer festivals in Britain. There are plenty of food stalls conveniently located around the festival site so you don't have to miss a beat if you are hungry. The beer is the best (naturally) and the hot donut stand serves some good coffee to keep you going!

The good news for our tour is that unlike the poor souls camping in a damp tent, or fighting traffic, at the end of the night we get to hop onto our own private bus (that Fairport let's us park directly on the field) which wisks us away to our home away from home, the Whately Hall for a nightcap and a warm bed.

Sunday, August 12 - Danbury / York ("England Only" tour departs)

If you have signed up for the England Only Tour your trip officially ends after breakfast. You can easily get to the airport (Heathrow or Gatwick) from Banbury on National Express coaches.

Those of us on the full tour travel north through the rolling English countryside arriving into York, one of Britain's most historic cities, surrounded by medieval city walls. You will have the afternoon to wander the medieval streets of the Shambles and visit the famous York Minster, or perhaps the National Railway Museum (high on my family's list), the Castle Museum or the Viking Center. In York there is pretty much a museum for everyone's taste!

Barely 2 miles from the heart of York is our wonderful country house hotel, the Middlethorpe Hall & Spa. Originally built in 1699 Middlethorpe Hall is a William III country house with an 18th Century Courtyard. Relax in the drawing room, stroll in the gardens (croquet, anyone?), have a swim, or book yourself a massage in the Spa -- a great R&R after our long weekend. Tonight we will have an elegant three course dinner in the paneled dining room, a perfect antidote to 3 days of eating Festival food!

Monday, August 13 - Scottish Highlands

We take a long drive throught the north of England crossing over the Scottish border and arriving at our hotel in the Scottish highlands near the shores of the famous Loch Ness. We meet up with two of our favorite musicians -- the Shetland fiddler Aly Bain and the delightfully fun and exciting Scottish accordionist, Phil Cunningham. Phil & Aly have planned their annual Summer Highlands Tour to be able to spend time with us. Our evening is free for dinner, drinks or a laugh with Phil.

Tuesday, August 14 - Scottish Highlands

Free morning to enjoy the Scottish Highlands... this afternoon we have organized a private boat cruise on Loch Ness in search of You Know Who. Visit the eerie Castle Urquhart on the shores of the Loch, visit the Loch Ness Exhibition, shop for gifts, shortbread or a new kilt! Following a traditional Scottish supper we'll join the locals for Phil & Aly's concert, which is a big event in this tiny Highland town.

Wednesday, August 15 - Castle Day

Following the "whisky trail" we arrive in the farthest north east corner of Scotland. We are treated to private views of both Towie Barclay Castle and, as a special treat, Fyvie Castle, both as guests of our good friend Marc Ellington, now the Deputy Lieutenant of Aberdeenshire, and formerly a guest musician with Fairport (spot which album he is on!).

Tonight we'll stay in the town of Huntly at a combination of local B&Bs as well as the aptly named Castle Hotel, which overlooks the ruins of Huntly Castle, formerly the stronghold of the infamous Gordon clan. We'll have a delicious dinner tonight at the Castle Hotel, and experience the unique music of this part of Scotland with an informal ceilidh.

Thursday, August 16 - Edinburgh

Spend the morning relaxing on the castle grounds. Since we are in the heart of whisky country our trip would not be complete without a visit to one of the local distilleries for a dram.

After lunch we head down to Edinburgh arriving into the vibrant city of Edinburgh in time for the Edinburgh International Festival which is now in full swing . Enjoy music, theatre, comedy at thousands of productions taking place in every nook and cranny in the city. Not only is there the Fringe festival but simultaneously there is a book and even a film festival. Our hotel, Ten Hill Place, is conveniently located to all the best venues so you can walk to everything. Your biggest problem will be how to squeeze in everything you want to see! But we will help you get organized.

Edinburgh is my favorite city in Scotland -- and probably most people's as it has everything going for it including being built around the famous Edinburgh Castle.

Friday, August 17 - Edinburgh

Start the day with a fun production at the Edinburgh Fringe Festival followed by a special private tour of the famous Edinburgh Castle (organized again by our pal Marc Ellington). The rest of your day and evening is free to enjoy the Edinburgh Festival.

Saturday, August 18 - Edinburgh

Our last day in Edinburgh. We will gather in the afternoon for a farewell traditional Afternoon Scottish Tea. Dress in your finest duds and bring your cameras! The evening is free to catch one of the many concerts or productions here in Edinburgh -- always too much to choose from!

Sunday, August 19

Tour officially ends after breakfast.



Booking Form | Booking Conditions
Want to know more? Phone, fax or write to:

Nancy Covey or Joey Thompson
Festival Tours International
15332 Antioch St. #17, Pacific Palisades, CA 90272
Fax/Tel (818) 346-5146 (310) 454-4080
E-mail: Festtours@aol.com
---
festival tours home page